Tech
iPhone 15 USB-C port is finally official
Apple unveiled the iPhone 15 last week, and the new models are now available to preorder ahead of their September 22nd release. As rumored, all four iPhone 15 models feature USB-C ports instead of Lightning connectors. These are the standard USB-C connectors you'd find on any other device, rather than special Made for iPhone (MFi) ports.
The iPhone 15 Pros have one unique USB-C feature: faster data transfer speeds. These faster speeds are enabled by the A17 Pro chip powering the iPhone 15 Pros, which has a new controller.
Aside from that, the four USB-C ports on the new iPhone models have the same functionality. Below, I'll explain everything you need to know about them.
Your old USB-C cables can charge an iPhone 15
The iPhone 15 models ship with free, braided USB-C cables, which are more durable than the plastic ones. But you can also use any USB-C cable you already own.
Apple's official documents show that the iPhone 15 supports wired charging speeds of up to 20W. In practice, charging speeds should increase to 30W if you employ more powerful chargers. At least, that's the case for the iPhone 13 and 14 models.
You can charge your iPhone 15 over USB-C from a computer, like your Mac, just like you could with the Lightning port on recent iPhone models.
Charge other devices with your iPhone
The introduction of USB-C means every iPhone 15 model can recharge other devices. Apple only mentioned the AirPods and Apple Watch in its iPhone 15 materials initially. Thanks to a new support document, we know that you can use the iPhone 15 to charge other "small devices" at up to 4.5W of power as well.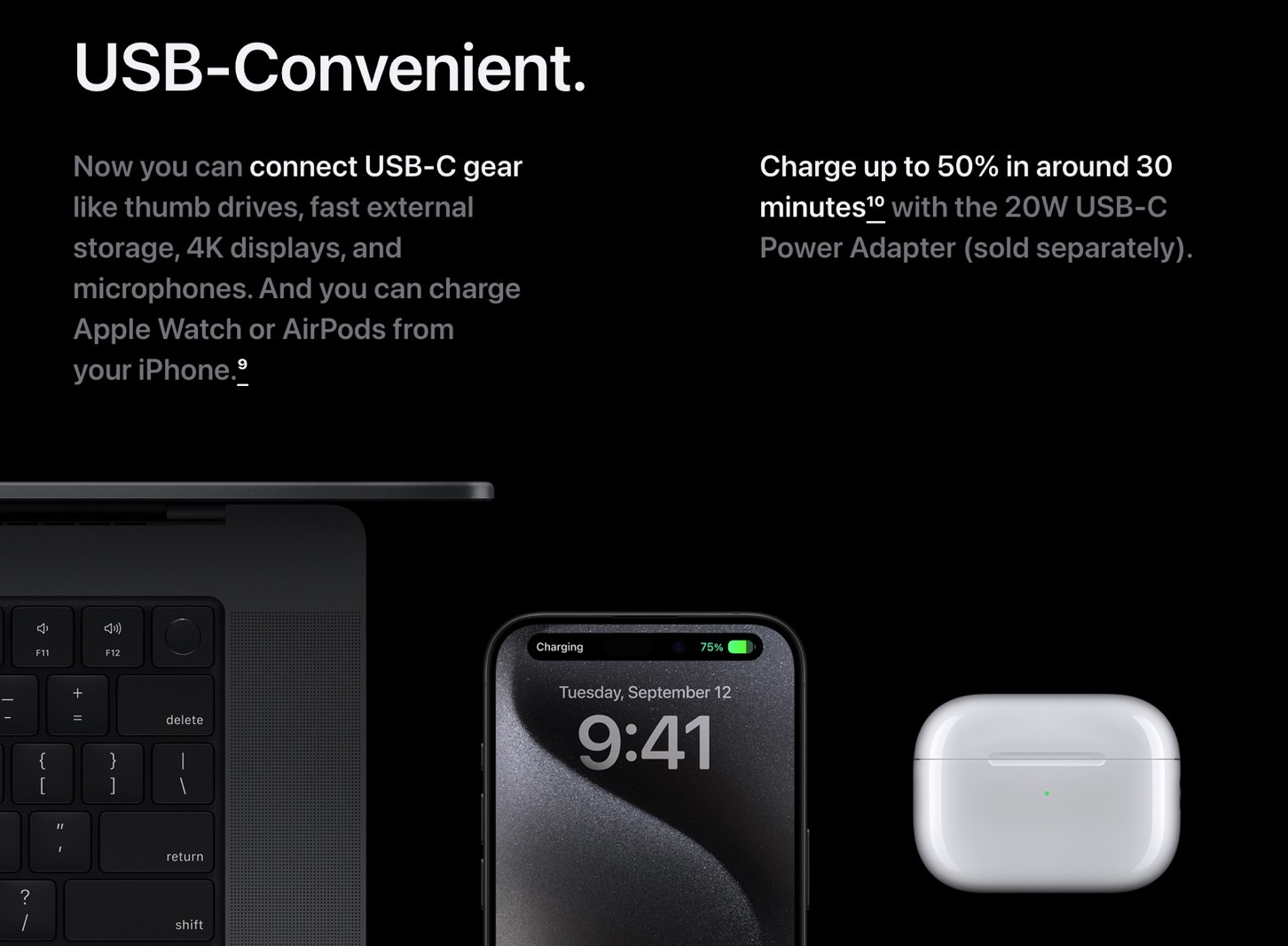 Transfer data at higher speeds with the right cable
You'll need to buy Thunderbolt cables to take advantage of the iPhone 15 Pro's faster charging speeds. These have USB-C ports on both ends and can recharge the iPhone as well. They'll be more expensive than traditional USB-C cables like the one Apple ships with the iPhone 15.
If you need specifics when buying new iPhone 15 Pro/Max USB-C cables, you'll find them on Apple's support document. You'll need USB 3.2 Gen 2 (USB 3) cables to reach that 10 Gbps max speed. If you get a Thunderbolt 4 cable or have one, it'll support USB 3 speeds. Thunderbolt cables have a Thunderbolt symbol on them. That's how you tell them apart.
The default USB-C cable and other third-party ones will support data transfer speeds of up to 480 Mbps, just like the Lightning ports. Thunderbolt USB-C will support speeds of up to 10 Gbps on the iPhone 15 Pro and 15 Pro Max.
Record video directly to external storage
The USB-C port will also let you connect an external SSD to your iPhone 15 Pro/Max and record video directly to it. This might be useful if you use the iPhone 15 Pro/Max to shoot video professionally and need more storage space. The feature supports video recording mode of up to 4K 60fps.
This feature also means moving your ProRes videos directly to your external storage while recording your takes.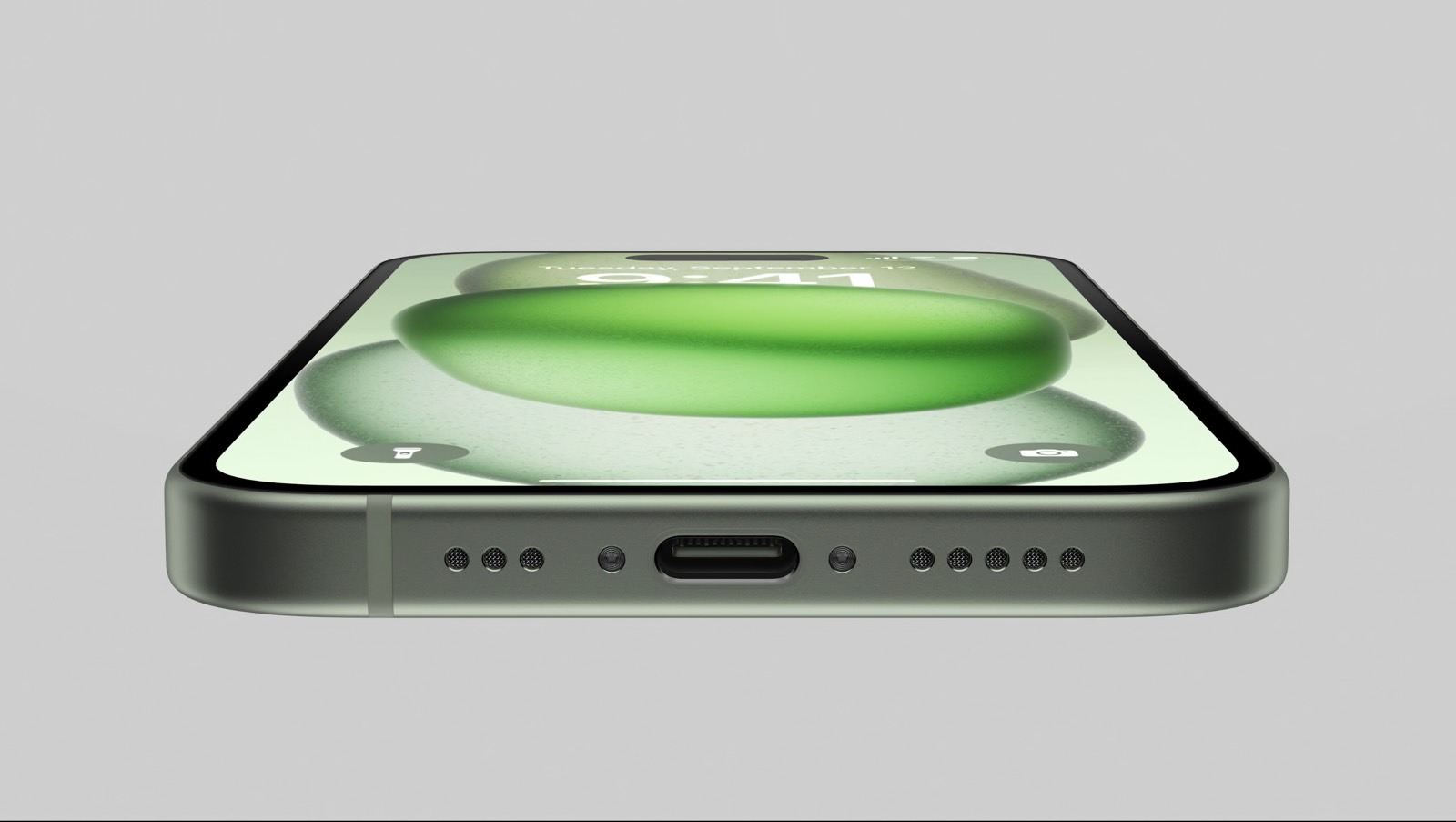 Play music over USB-C
Light the Lightning port, the iPhone 15's USB-C port supports wired headphones and earphones. Apple launched a new EarPods model that features a USB-C connector. Or you can use your current wired headphones as long as they have USB-C connectors or you have the right adapters.
Connect to a bigger screen
The USB-C on iPhone 15 and 15 Pro will let you connect the phone to your display, monitor, and TV with a wire. If those devices feature USB-C connectivity, you only need to connect them with a compatible USB-C cable. You'll then be able to mirror your iPhone 15 screen to share videos and photos. Or use the iPhone on a larger screen.
However, you might need different cables for connecting your iPhone 15 to the external display. The handset supports DisplayPort protocol for USB-C displays. That means you get up to 4K resolution at 60Hz. You'll need USB 3.1 or higher cables for that. Again, a Thunderbolt 4 cable will do the job.
You'll need a USB-C to HDMI adapter if your display or TV lacks a USB-C port. Ensure you get adapters that support HDMI 2.0, so you get the same 4K resolution and 60Hz refresh rate support.
Connect other devices to iPhone
So far, I've mentioned computers (for data transfers and backups), external storage (for direct recording), and monitors (for iPhone mirroring). But USB-C will let you connect the iPhone to various other third-party products. On its website, Apple also lists CarPlay-compatible cars, microphones, external battery packs, USB to Ethernet adapters, and SD cards (via adapters).
Apple points out that you might need adapters for devices that don't have USB-C connectors themselves.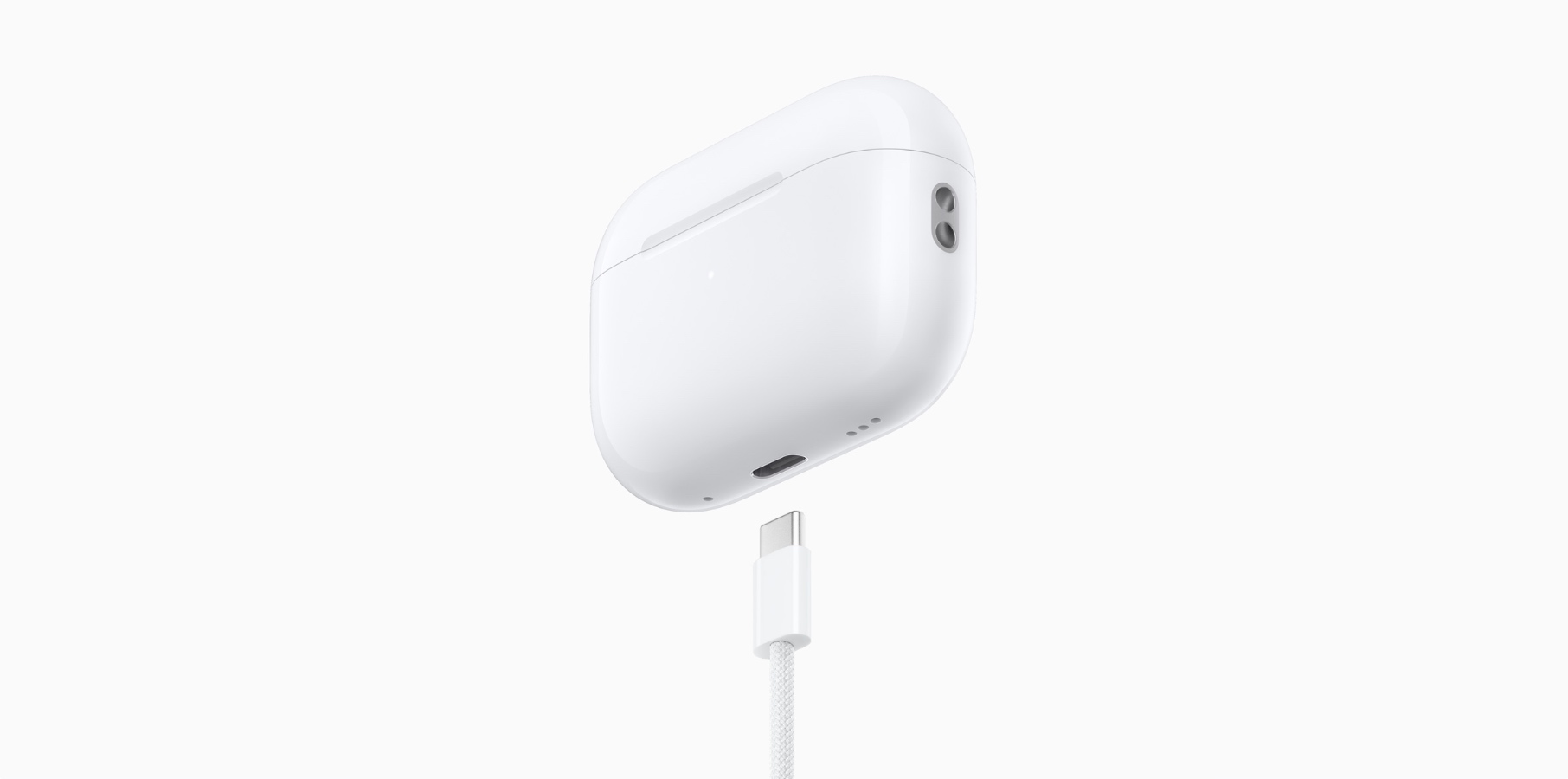 One more thing
At the end of its USB-C support document, Apple mentions an important detail about using third-party cables and the iPhone 15. They might interfere with wireless connections. Apple advises the use of a Thunderbolt 4 cable to minimize interference:
If you experience slower Wi-Fi or cellular performance while using a USB-C accessory, performance should return to normal after the accessory is disconnected. To prevent future interference, disconnect when you finish using the accessory or try using a different cable, such as the Thunderbolt 4 (USB‑C) Pro Cable (1 m), which is designed to minimize interference.
If you plan on using multiple USB-C devices with your iPhone 15, you'd better keep this support document handy for reference.