Tech
Release date, price, colors, watchOS 10, and more
During Apple's Wonderlust event, the company announced the Apple Watch Series 9. With a few hardware changes, this device marks the first carbon-neutral product by the Cupertino firm. Here's everything we know about this product, including specs, release date, price, watchOS 10, and more.
Design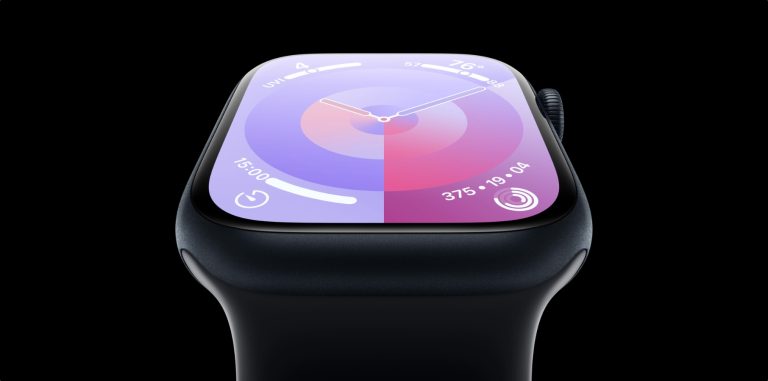 Apple Watch Series 9 follows the Apple Watch Series 8 and Apple Watch Series 7 and maintains the exact case sizes for users to choose from 41mm and 45mm. The difference is that the display has a new maximum brightness of 2,000 nits – twice as much as the previous generation. In addition, the screen can now shine as low as one nit, which is perfect for dark rooms or early mornings.
Like previous years, Apple offers the Apple Watch Series 9 in aluminum, which features a thick front crystal with a flat base and robust geometry for durability and crack resistance with Ion-X front glass, and stainless steel with sapphire front crystal. The titanium finish is now exclusive to the Apple Watch Ultra.
Colors
For the aluminum Apple Watch Series 9, it is available in the following colors:
Starlight
Midnight
Silver
(PRODUCT)RED
Pink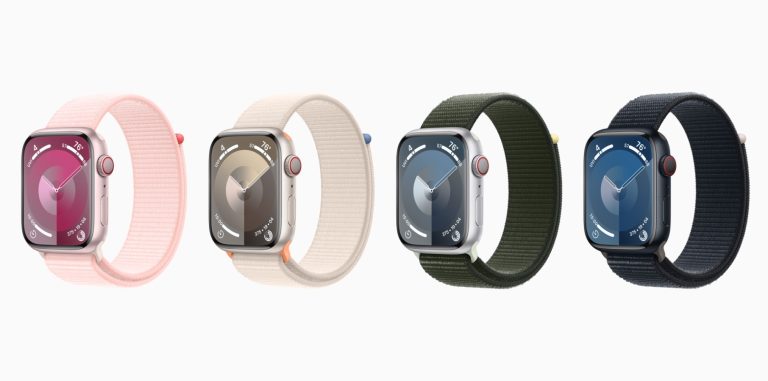 For the stainless steel version, you can find it in:
Apple Watch Series 9 is carbon-neutral
As part of Apple 2030, the Apple Watch's carbon footprint has significantly decreased. Emissions were reduced from the three biggest sources of greenhouse gases — materials, electricity, and transportation. The small amount of emissions remaining are offset by high-quality carbon credits from nature-based projects. Apple Watch packaging has been redesigned to be 100 percent fiber-based, and a new logo on the packaging indicates carbon-neutral models.
Apple says that each carbon-neutral Apple Watch model meets the following strict criteria:
100 percent clean electricity for manufacturing and product use
30 percent recycled or renewable material by weight
50 percent of shipping without the use of air transportation
These combined efforts result in at least a 75 percent reduction in product emissions for each model. To select a carbon-neutral Apple Watch Series 9, users must choose an aluminum version paired with a new Sport Loop.
New processor and ultrawide-band chip unlock new features
S9 processor
After a few years of no processor upgrades, Apple is giving us a new, powerful S9 SiP with 64GB of storage. This chip is faster, more efficient, and unlocks new features. With a new 4-core Neural Engine, it can process machine learning tasks up to twice as fast when compared to its predecessor. These are the highlights:
Double tap gestures: Users can easily control the Apple Watch Series 9 using just one hand and without touching the display by tapping the index finger and thumb of their watch hand together twice to quickly and conveniently perform many of the most common actions on the Watch. The faster Neural Engine enables this new double tap gesture, which processes data from the accelerometer, gyroscope, and optical heart sensor with a new machine learning algorithm.
On-device Siri: For the first time on Apple Watch, Siri requests can be processed on the device. For requests that do not require information from the internet, such as starting a workout or setting a timer, Siri does not rely on Wi-Fi or cellular networks, resulting in quicker and more reliable responses. In addition, dictation is up to 25% more accurate than the previous generation. Users can even use Siri to access data from the Health app for health and fitness queries.
Brighter display: As mentioned above, the power-efficient S9 chip increases the maximum brightness of the Apple Watch while maintaining its all-day battery.
U2 chip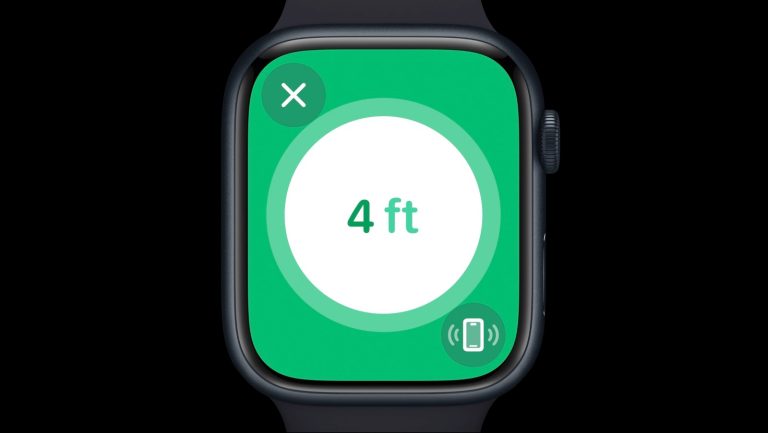 Find your iPhone: With a second-generation Ultra Wideband chip, it enables Precision Finding for the iPhone 15 family, which gives you distance and direction, as well as visual, haptic, and audio guidance to a misplaced iPhone.
HomePod integration: UWB also brings deeper integration between Apple Watch and HomePod. When an Apple Watch user gets within 4 meters of a HomePod playing audio, Apple Watch Series 9 will launch Now Playing to control the media. Or if nothing is playing on HomePod, media suggestions will appear at the top of the Smart Stack.
Sensors
According to rumors, Apple, indeed, did not add new sensors to the Apple Watch Series 9. That said, this is everything you get with this Watch:
High and low heart rate notifications
Irregular rhythm notification
Cardio fitness notifications
Temperature sensing
Emergency SOS
International emergency calling
Fall Detection
Crash Detection
High-g accelerometer
Battery and connectivity
Apple also didn't change the battery and connectivity specs. You can have Apple Watches with GPS or GPS + cellular connectivity. Cupertino promises an all-day battery of up to 18 hours or up to 36 hours in low-power mode.
The Apple Watch Series 9 also gets fast charging, so you can always have your Watch on whenever needed.
watchOS 10 powers Apple Watch Series 9
Since the Apple Watch Series 9 won't have groundbreaking hardware functionalities, Apple is betting on improved watchOS 10 features to make this device more enticing. With watchOS 9, Apple expanded its Sleep functionalities, revamped Watch Faces, and a new Medications app.
This time, Apple says that "virtually every app has been rethought." With that, these apps use the entire screen to create new places for content, so you can see and do more, which is especially useful for a larger Apple Watch display. In addition, Apple added two new Watch Faces, Pallet and Snoopy.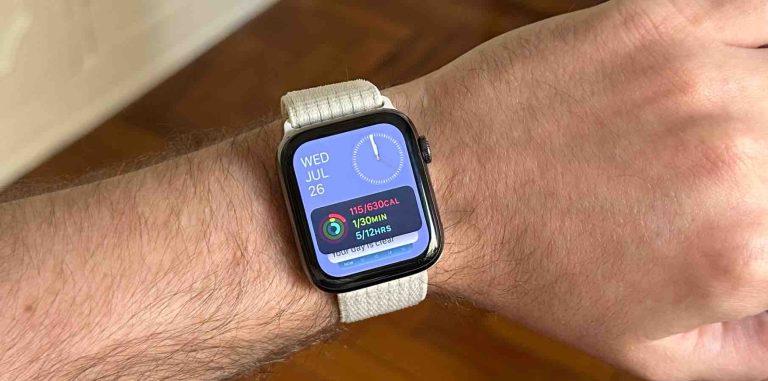 With Smart Stack widgets, you get the information you need below any Watch Face. You just need to turn the Digital Crown to reveal widgets in the Smart Stack. It includes multiple timers, your next meeting, music playing, and more.
The Control Center is now available when pressing the side button. Pressing the Digital Crown once still opens the App Library – which has been reimagined – and pressing twice opens the cards added to your Apple Wallet.
New features for Apple Fitness Plus on watchOS 10 include the ability to create a custom plan for your workouts. If you have a goal, such as a personal event, or want to lose weight, you can select your weekly schedule, how long you are planning to workout per day, the length of the plan (up to 8 weeks), and the activity types you're planning to engage.
You can learn more about watchOS 10 here.
Release date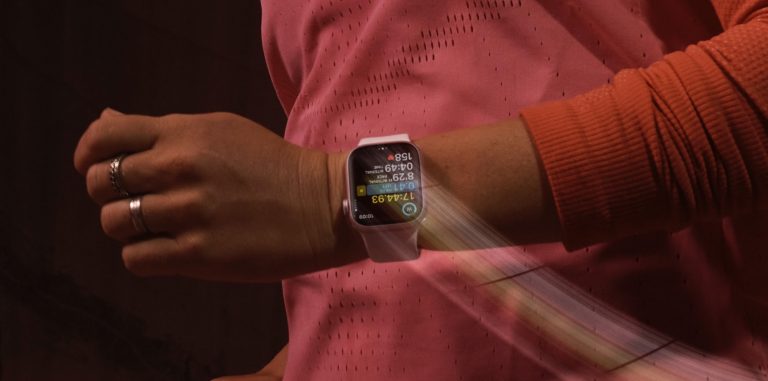 Pre-orders for Apple Watch Series 9 have been available since the end of the Wonderlust event on September 12. The new watches will be in store starting September 22 alongside the iPhone 15 lineup.
Price
Apple Watch Series 9 costs the same as the previous years.
Aluminum, 41mm, GPS: $399
Aluminum, 41mm, GPS + Cellular: $499
Aluminum, 45mm, GPS: $429
Aluminum, 45m, GPS + Cellular: $529
Stainless steel, 41mm, GPS + Cellular: $699
Stainless steel, 45mm, GPS + Cellular: $749
A new page to buy Apple Watch Series 9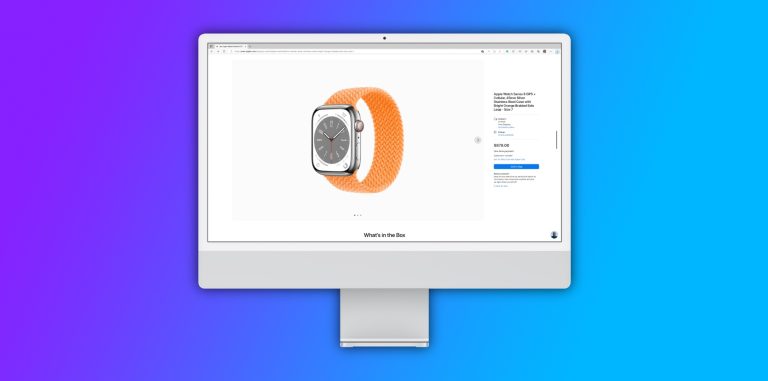 Before announcing the Apple Watch Series 9, Apple revamped its Apple Watch buying page on its official website. Now, the company offers a streamlined and slimmed-down experience, highlighting each part of your new Watch, giving users a better understatement of how to customize this wearable properly.
For example, when you start shopping for an Apple Watch Series 8, you begin by choosing the material and finish. Once you select Aluminum, it shows the different cases and how each looks; the same is worth it for Stainless Steel models.
After that, you choose the case size and different bands. Since bands are a crucial part of the Apple Watch customization, Apple first shows the four options: Rubber, Textiles, Leather, and Stainless Steel. Then, when you click on each option, the company shows the different brands and, finally, the different colors.
Finally, you choose if you have a Watch to use as a trade-in, how you plan to pay, and if you want to add AppleCare+. During the whole process, Apple also tells you how much you will spend with each option and the benefits of each one.
What about the Apple Watch Series X?
Although rumors claimed Apple was readying an Apple Watch Series X for 2023, the suggestion doesn't make sense as only the product's operating system is nearing version 10, but the Watch isn't turning ten years old yet.
That said, it doesn't mean Apple won't launch an Apple Watch Series X in the future – as it has previously done with the iPhone. Just don't expect 2023 to be the year.