Tech
tvOS 17 is now available to Apple TV users – and it's full of new features
After a couple of months of beta testing, tvOS 17 is finally available to Apple TV users. While previous versions of tvOS didn't add much to Apple's set-top box, tvOS 17 has many new features that users will enjoy.
For the first time, the Apple TV hardware integrates with the iPhone camera with the Continuity Camera feature on tvOS 17. With that, Apple added the FaceTime app to the set-top box.
With FaceTime on Apple TV 4K, users can initiate calls directly from Apple TV, start them on iPhone or iPad, and hand them off to Apple TV. It uses Continuity Camera support to connect to the user's iPhone or iPad wirelessly and leverages the device's camera and microphone to bring participants together on the TV. It also works with Center Stage, so everyone keeps in the room framed on the screen.
In addition, Apple Music Sing integrates with Continuity Camera so Apple TV users can see themselves onscreen and add "entertaining filters" while singing. Despite that, Apple Music on Apple TV doesn't seem to be adding credit to songs, which is available for iOS 17. The iPhone operating system also brings a new cover for when music is playing on Apple Music, but it also doesn't seem to be the case with the Apple TV, as the player remains the same.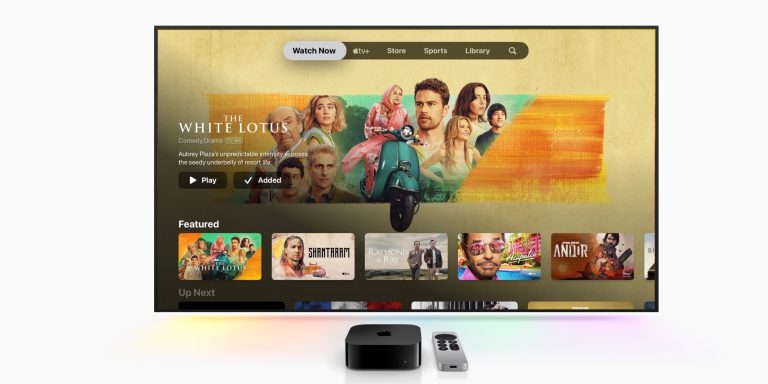 While iOS 17 didn't get a revamped Control Center as it was rumored, the Apple TV with tvOS 17 did. The new Control Center focuses on making things easier for the Apple TV. From there, you can see the system status, the current time, and the active profile. It also makes connecting Bluetooth devices or checking your Home accessories easier. Bringing the new UI to multiple platforms, a new Control Center interface is also available in watchOS 10.
With fast Profile switching, users just need to wake up the Apple TV with the remote app on the iPhone's Control Center, and it will automatically switch to that person's profile, ensuring they have access to their recently watched shows and personalized recommendations.
To improve that experience, customized Settings for Profiles are now saved for each user's profile with tvOS 17, including their system language and paired AirPods.
For HomePod 2 owners, the new operating system brings enhanced dialogue by letting Apple TV users hear more clearly what is being said over the effects, action, and music in a movie or TV show on Apple TV 4K paired with HomePod (2nd generation) by separating the dialogue from the background noise and bringing it forward to the center channel.
Device compatibility
These are the set-top boxes and smart speakers that support tvOS 17:
Apple TV HD (2015)
Apple TV 4K (1st gen)
Apple TV 4K (2nd gen)
Apple TV 4K (3rd gen)
HomePod 2018 or newer
HomePod mini (2020)
BGR's tvOS 17 coverage